Trigonometry Calculator
---
The trigonometric functions have been defined using the unit circle. The degree of an angle measured counter-clock-wise from the x-axis along an arc of the circle.
The sin(θ) is the vertical component , the cos(θ) is the horizontal coordinate of the arc endpoint and the ratio of sin(θ) / cos(θ) is defined as tan(θ). Since the trigonometric functions are periodic with period 360 degree or say 2 π therefore :
func(θ) = func( 2 π r n + θ)
where func is a trigonometric function and n is an integer.
Sin(q) = Opposite / Hypotenuse
Cos(q) = Adjacent / Hypotenuse
Tan(q) = Opposite / Adjacent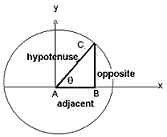 The table for basic trigonometric numbers of the most common angles as follows:
| | | | | | | |
| --- | --- | --- | --- | --- | --- | --- |
| Angle | sin | cos | tan | cot | sec | cosec |
| 0o | 0 | 1 | 0 | Not define | 1 | Not define |
| 30o | 1/2 | √3/2 | 1/√3 | √3 | 2/√3 | 2 |
| 45o | 1/√2 | 1/√2 | 1 | 1 | √2 | √2 |
| 60o | √3/2 | 1/2 | √3 | 1/√3 | 2 | 2/√3 |
| 90o | 1 | 0 | Not define | 0 | Not define | 1 |